Shining the spotlight on Alabama and focusing on the River Region, The Gump Local Showcase features original music from the area. Check out the playlists below!
To submit music for consideration, email [email protected] with the name of your band, your location, and no more than two MP3's.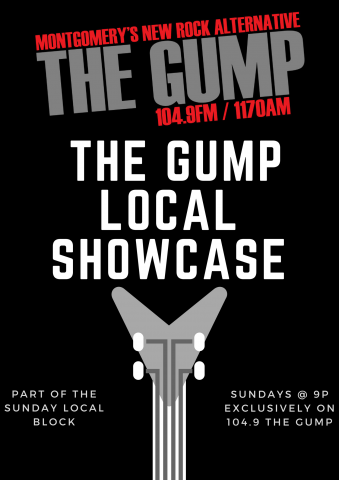 October 13, 2019
Not In The Ground – Becky Folmar and The Bama Sound
Sipsey – Will Stewart
She Got What He Deserved – The Last Thing You Remember
Sand Dollars – Paxton Brothers
Out Of Reach – BUNCH
Lydia – Captain Kudzu
Touch – G.E.M.S.
Firefly – Britt Johnson
Children Of The Sun – Electric Blue Yonder
Hair Down – Lady Legs
Friends – The Abusements
Get Broke Quick – V8 Death Car
Dumps Like A Truck – Dirty Lungs
Grey – Bearmace
October 6, 2019
In The End – The Great Book Of John
The Weight Of Us – Sanders Bohlke
Blindside – Under Darkened Skies
Hypatia – Wray
Ride The Goat – Lostronaut
Friends – The Abusements
To Asgard – Pink For President
Alabama Song – Future Elevators
Big Black Dog – Dead Fingers
Deadhorse – The Last Thing You Remember
Make Believe – Travis Waters
Corner Girl – Through The Sparks
The Persuasive Bullet – Wolves of Chernobyl
Walkin' Out – Co Op
Determine Your Own Fate – Bearmace
Squares – Captain Kudzu